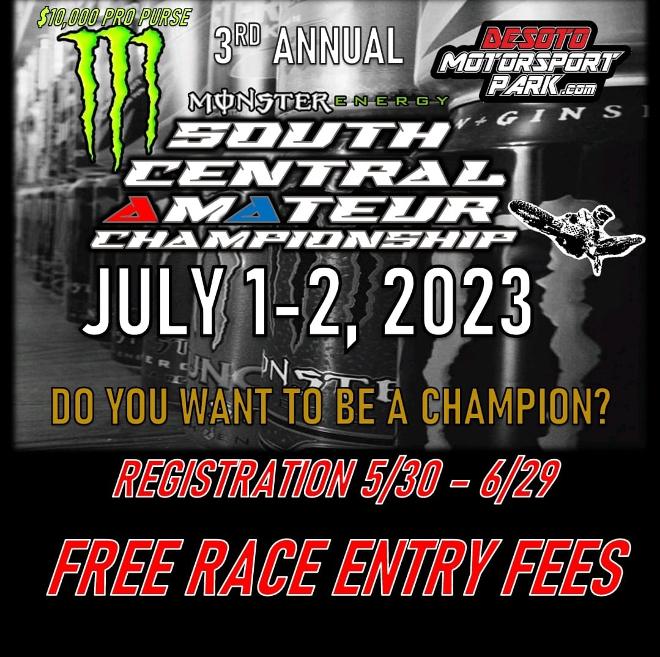 REGISTRATION OPENS 5/30/2023
CLICK LINK AT BOTTOM OF PAGE FOR RACE REGISTRATION


ONLINE RV RESERVATION LINK AT BOTTOM OF PAGE
LINK AVAILABLE 5/30/2023


We invite you all to the 3rd ANNUAL
MONSTER ENERGY

SOUTH CENTRAL AMATEUR CHAMPIONSHIP
being held on July 1-2 2023, at Desoto Motorsport Park.


On this specific weekend not only will we celebrate Independence Day but thanks to
#Monster Energy
if you are at this event, you will also receive FREE RACE ENTRIES (if you pre-entered).
In addition, we will be putting up a
$10,000 PRO
PURSE.
(15 racers minimum required for FULL PRO PURSE in each PRO Class)

FREE race registration will be online pre-entry only. We welcome everyone to like/follow & SHARE our page MONSTER ENERGY South Central Amateur Championship.

Click on Flyer below for PDF Download.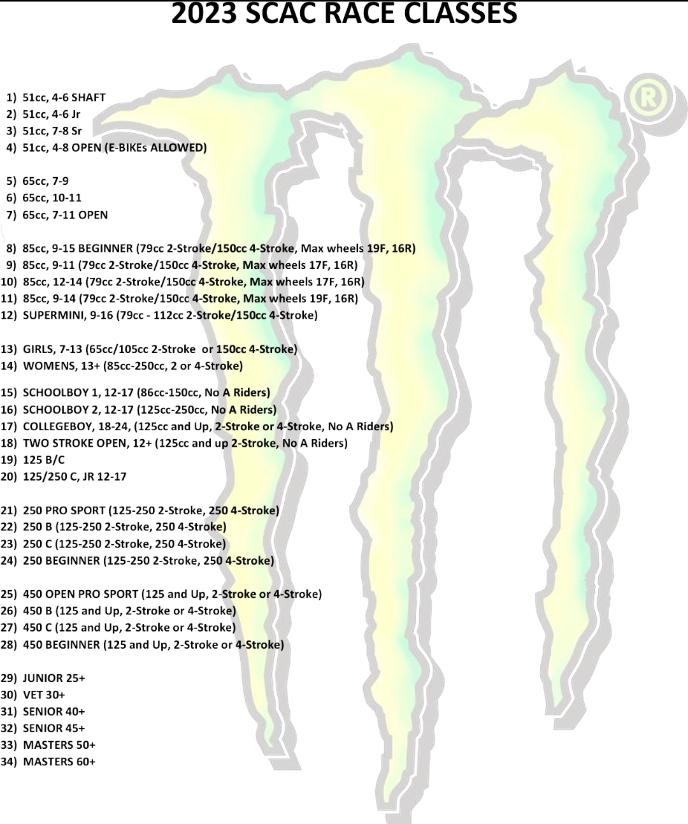 South Central Amateur National Race Event Informatio

n






RACE FEES:
–ONLY PRE-REGISTRATION ONLINE IS FREE -
If you have not pre-registered before the deadline, then classes will be $50 per class.
- On-Site REGISTRATION WILL REOPEN AT EVENT FRIDAY at $50 per class.

Online FREE registration open

5/30/23 - 6/29/23

.

​- If you want to sign up for free you MUST pre-register online
- RACE READY Transponders are required for this event. There will be a $30 transponder operation fee for this event, if you do not own a RACE READY transponder, you will have to purchase one at check out during race registration at a $15 charge. Transponder pickup will be at the track on June 30th - July 2nd.
REGISTRATION ONLINE CLOSES 6/29/23 AT NOON CST. $50 PER RACE ENTRY AT EVENT AFTER ONLINE REGISTRATION CLOSES.
Racers can sign up for a max of 3 race classes.
Registration Requirements:


- Create a RACE READY Profile at (iraceready.com) Unless you already have one.
- Need Transponder ID Number
- Last 4 Digits of your Frame Number
- Enter all info asked such as Phone number - email - address etc. So if we have to reach you for any issues, we can do so.
Additional Information:
- NO REFUNDS AFTER YOU SIGNUP
- All racers will be required to run a (Race Ready) Transponder. (Purchase at track for $15)
If you already own a functional (Race Ready) transponder, you will not have to purchase it.
- $30 TRANSPONDER Operation Fee for the weeklong event (Required for all racers)



ALL Pre-registered racers MUST Check-In by Friday, June 30th, check in hours 3pm-6pm to secure your race entry. You must present your name, valid ID & Transponder TAG to check-in.
Minors (anyone under 18 years) must be accompanied by a parent or legal guardian to sign required minor release forms. At Check-In/Registration, mechanics will be issued a pass. One Mechanic per rider will be allowed in staging and gate area.
Mandatory Riders Meeting
We encourage everyone to join us under the pavilion for riders meeting Saturday at 7am. It will also be broadcast on our radio station 89.7 FM. You as the rider are responsible for knowing the RULES, adhering to the RULES, ensuring your pit crew (family, friends, mechanic or anyone in association with you as the rider) adhere to rules and any schedule changes that may arise over the weekend whether you attend our live riders meeting or not. Once again, we encourage you to attend riders meeting for the latest information.
WEDNESDAY June 28


Park will be closed. No early admittance.




THURSDAY JUNE 29


Gate Hours: 12pm-11:55pm




FRIDAY JUNE 30


Gate Hours: 7am-11:30pm
Practice sign-up: 9am-3pm
Early Race check in: 3pm-6pm
Organized Practice: 10am-2pm




SATURDAY JULY 1


Gate Hours: 6:30am-11:30pm
Late Registration + Check-In: 6:00am
Mandatory riders meeting: 7:15am
Practice: 8:00am (2 LAPS)
MOTO 1 Races immediately following



SUNDAY JULY 2


Gate Hours: 6:30am
Practice: 8am (2 LAPS)
MOTO 2 Races immediately following



Friday PRACTICE 10AM – 3PM: (Weather Permitting)


- $35 PRACTICE FEE PER CLASS (Practice purchase at the event ONLY)
- Practice Registration Open 8:30AM
- Everyone is being timed via RACE READY transponder.
- 1st lap is yellow flagged no passing or jumping.

(Scheduled practice riding hours subject to change. Please check social media and website closer to event date.)




PARK ENTRY - PURCHASED AT GATE


Park Admission Process:
Upon entry, guests will be greeted by staff and will be given an information sheet setting forth the rules for the weekend, and liability release terms and conditions.
Everyone in attendance must wear a Wristband at all times (RACERS INCLUDED) WRISTBANDS WILL BE CHECKED AT ALL TIMES (PRACTICE, RACE, EVENT).
Must have wristbands ON for re-entry to park.
We ask that you contain your own trash (CLOSE TRASH BAGS) and place it next to the gravel roads (DO NOT BLOCK ROADS WITH TRASH BAGS) so that our staff can easily dispose of them for you. Thanks in advance for pitching in.


PARK ENTRY PRICES: (CASH ONLY)
$35 EVENT PASS PER PERSON - 4 DAY PASS (THURSDAY - SAT/SUN)
$30 EVENT PASS PER PERSON - 3 DAY PASS (FRIDAY - SAT/SUN)
$20 EVENT PASS PER PERSON - 2 DAY PASS (SATURDAY/SUNDAY)
​$10 EVENT PASS PER PERSON - 1 DAY PASS (SUNDAY ONLY)


NO ONE DAY PASSES SOLD - ONLY ON LAST DAY (SUNDAY, 7/2/23)

-Ages 3 and under are FREE, Ages 4 and Up must pay.
-Please come prepared to pay for your gate fee. CASH ONLY. You will not be allowed to pre-pay for someone coming in later than you or find someone inside the gates to get funds. There will be no drop offs inside the gates. If you need to drop off something or someone or borrow money you MUST meet them outside the gates. NO EXCEPTIONS.

*NO REFUNDS WILL BE ISSUED AT FRONT GATE.






GATE HOURS / ADDITIONAL INFORMATION


Gates Open Thursday 12PM,
NO EARLY arrivals please.

Gates Open 6:30AM – 11:30PM Daily (Friday, Saturday & Sunday)
-Limited parking in front field and along road entrance available if arriving after hours.
-You will be parked by an attendant, if you would like to park next to someone, please arrive with them. There will be NO saving spots.


Dry Camping $10/day paid at race event only (One day pass ONLY on Sunday)
$40 Thursday – Sunday
$30 Friday – Sunday
$20 Saturday - Sunday


CAMPING FEES RV HOOKUP PURCHASED ONLINE (ONLY) OPENS 8PM 5/30/23 UNTIL SOLD



- RV Hookups (PRE-PAID ONLINE ONLY) $150+processing fee ($6)
Please read the following information before purchasing a reservation.

To purchase a reservation you will click the reservation button at the bottom of this page.
Pull Through Space with 20-30-50 AMP & Water.
Reservation for Thursday, June 29th through Sunday, July 2nd, 2023.
-Reservation will be credited to the name on the card purchasing the RV Hookup unless you contact us and specify otherwise.
-Reservations will be open until all are sold. If the link does not work they are most likely sold out. We will do our best to update on the website once they are sold out.
** RV Hookups can only be bought by the individual reserving. No buying for other friends or family.
**None Refundable & None Transferable.


** We reserve the right to sell your camping spot after 1pm on Friday, July 1at if you don't Claim your RV spot by coming into the park or contacting us via text (318-461-9226) by the specified date & time. We will attempt to contact you but it is your responsibility to claim your camping spot by the time and date above.



All Camping (Dry or Hookup)
- PLEASE ENTER EVENT WITH FRIENDS/FAMILY TO PARK NEXT TO EACH OTHER
- NO SAVING SPOTS
- RV spot spaces have a 2 vehicle limit. Example (1 Motorhome + 1 car) or (5th wheel with truck included + 1 car).


- IF YOU NEED WATER AT THE EVENT FOR YOUR RV, IT WILL BE $10 TO FILL UP (ASK ENTRANCE GATE).
-SEWAGE DUMPING UNAVIALIABLE.




ALL PIT VEHICLES - MUST HAVE A PIT PASS TO DRIVE AT EVENT


$20 Pit Vehicle Pass/Weekend (GOLF CART - ATV - UTV - PITBIKE)

>Passes can only be purchased AT EVENT ENTRANCE GATE during gate hours MUST be 16 years or older with a Valid Driver's License to drive anything with 4 wheels.
>Must have a helmet on anything that has 2 wheels with engine.
>Additional rules will be posted. You will fill out a form, pay and agree to the rules before receiving a pit pass.
IF caught breaking rules or property damage Desoto Motorsport Park reserves the right to confiscate your pit vehicles for the weekend. Additionally racers may be penalized for improper use of pit vehicles or rule breaking caused by them or family, friends, mechanic or anyone in association with you as the rider.
PIT VEHICLE RULES:
Operators MUST be 16 years or older with a Valid Driver's License to drive anything with 4 wheels.

Pit Vehicle Speed Limit is 5 MPH.

Pit vehicle use hours: 7 am - 9 pm daily.

Helmets must be worn for all 2-wheel pit vehicles.

All passengers must be seated.

Pit vehicles are PROHIBITED in the following areas:

-Motocross Track or anywhere inside the track fence

-Trails/Woods

Pit vehicles may not be operated in a reckless, careless or dangerous manner, and may not be operated by anyone under the influence of alcohol.

Pit vehicle usage is a privilege, not a right, which privilege can be revoked or terminated for any or no reason at the discretion of Desoto Motorsport Park Staff.

Unauthorized pit vehicles will be confiscated.

Violation of any of the above rules is grounds for penalty, including by not limited to confiscation of pit vehicle, disqualification of racer, and/or ejection from facility.

CASH ONLY AT EVENT - NO CHECKS, Credit Card FEE will apply at event





TRACK ADDRESS AND SHIPPING ADDRESS:


Desoto Motorsport Park, 673 West Industrial Park Dr. GRAND CANE, LA, 71032
Track #: 318-461-9226. Text or call.
​www.desotomotorsportpark.com
We're located next to the Desoto Parish AIRPORT, off of HWY 171,



ATTENTION

: LOOK for MX signs on HWY 171 near the AIRPORT. For those coming to Desoto for the first time make sure you enter the track from Hwy 171 near the airport.
We encourage you NOT to come in the back way (HWY 3015) with big rigs as the road is very narrow.

*IF OUR ADDRESS IS USED FOR SHIPMENTS, THEY WILL BE AVAILABLE AT FRONT GATE.
​-NOT RESPONSIBLE FOR ANY LOST DELIVERIES-




ACCOMODATIONS:
HOTELS in Mansfield LA: 10min south of the track on HWY 171,
- BEST WESTERN
- SUPER 8
- COMFORT INN
Additionally there are hotels in Shreveport, LA approximately 30+min from the track. \
ATTENTION

:

Due to the volume of people at this event we strongly advise you to keep all personal items locked up during the entire weekend. We are not responsible for lost or stolen items such as coolers, bicycles, personal items, etc.
Vendors:
If you or someone you know is interested in being a vendor for this event please contact the track by calling or texting 318-461-9226. To ensure your vending will be a good fit please be prepared to discuss what you will be selling and the type and size of your rig/setup (truck, trailer, semi, RV, 10x10 canopy, etc.). Vendor fees are $100 per race day plus gate admission. You must contact us (the track) in order to be approved to vend and secure a space on vendors' row no later than June 26th, 2023.




Event RULES:


NO GLASS BOTTLES
Riders and pit vehicles (SEE Pit Vehicle Rules ABOVE)
NO dumping fire ash into dumpster or trash cans
FIRES MUST BE CONTAINED IN A FIRE PIT (NO TOLERANCE)
Anyone under the age of 18 must be at their campsite by 10pm
Quiet time is 9pm- Please respect your neighbors. Please turn off any loud generators
NO oil dumping on property
NO digging Please do not roost in the parking/pit areas Keep your pit area clean
NO public display of unsportsmanlike behavior; loud cursing, etc.
Please report any violations to DMP staff.
Desoto Motorsport Park Rules:


IF caught breaking rules or property damage Desoto Motorsport Park reserves the right to confiscate your pit vehicles for the weekend. Additionally racers may be penalized for improper use of pit vehicles or rule breaking caused by them or family, friends, mechanic or anyone in association with you as the rider. NO TOLERANCE.
ALL riders MUST be signed in for practice or races before entering the track. (NO TOLERANCE) Every person on the Desoto Motorsport Park Property must sign a release of liability waiver or will be considered a trespasser.

Helmets MUST be worn properly (buckled) anytime the motorcycle or pit bike is cranked and moving with you on it. (NO TOLERANCE)

Speed limit 5 mph in the pit area. (All motorized vehicles)

No fighting ON or OFF the track.

Be respectful of Desoto Motorsport Park staff. Yelling, cussing or showing an attitude will get you nowhere. If you have an issue calmly explain and we will do everything possible to resolve the issue.

No public intoxication. No alcohol allowed in the starting gate areas. NO public display of unsportsmanlike behavior; loud cursing, etc.

No spectators allowed on the track or in undesignated areas. All spectators must remain in designated spectator areas behind perimeter fencing. Excluding the front entry gate, if you are going through a gate, open or closed, you're going somewhere you're not supposed to be. Authorized personnel only. If you are media you need to check in at the concession stand and wear appropriate attire.

All pets must be friendly and kept on a leash at all times. Please pick up after your pets in the pit area. Any problems will results in pet removal from property.

No dumping of oil, gray water or black water anywhere on the property.

No camp fires are permitted unless contained in a fire pit. Bring your own firewood. No pallets, wood with nails, glass, or trash is allowed to be burned.

Children 8 and under must be accompanied by an adult under close supervision.

Quiet time is 9pm. No pit bike riding or loud music permitted. NO bikes started before 7am.

Pit bikes must be registered. In order to ride a pit vehicle with 4 wheels you must be 16 years or older with a valid driver's license. No excessive speeds permitted in pits and camping areas-First gear idle only. Non-registered riders are not permitted to ride and riding double is strictly prohibited. Riders may ride their race bikes to the staging area in 1st gear only. They must enter and exit the track at designated locations only.

When riding the pit bike track – riders must have a riding pass & must ride the marked course (no cutting), must wear a helmet and must ride in the correct direction (counterclockwise).

Please be respectful of the facilities including camping areas, pits, driveways and lawn. No burnouts or cutting up the grass, no digging, and clean up your pit area. Bring all trash to trash barrels or designated trash pick-up areas. Absolutely no trespassing on the neighboring properties.

Persons involved in the destruction and/or theft of DESOTO MOTORSPORT PARK property, banners, any customer's property, etc. will be held liable and removed from the premises NO Tolerance.
Please report any violations to DMP staff. DESOTO MOTORSPORT PARK RESERVES THE RIGHT TO REVOKE RIDING PRIVILEGES OR ASK YOU TO LEAVE IF RULES ARE NOT FOLLOWED!
Remember! We are all here to have FUN! So please FOLLOW the rules above and have a great weekend. Thank you for coming to Desoto Motorsport Park.



All Information Subject to Change.
PLEASE READ ALL RV RESERVATION INFO ABOVE BEFORE SUBMITTING PAYMNET